PWC Chiropractic Reviews
Just as we are excited about transforming lives, our patients are equally excited to share their experiences with others.
Our Crystal Lake Chiropractic team knows that outstanding reviews and quality of chiropractic care matter to new patients.
PWC Chiropractic invites you to see what our patients have to say!
Looking to visit us for the first time?
Read our reviews on Google and Facebook to hear what our patients have to say.

Meet
Stella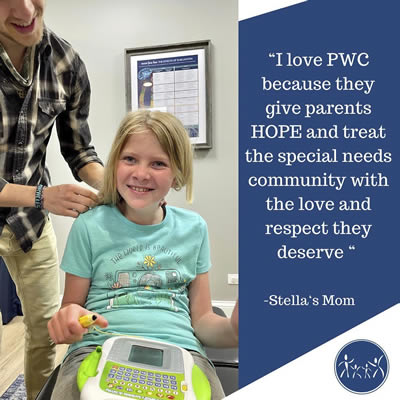 Stella is a sweet young girl whose smile and energy will change your day for the better. Though her life is beautiful and unique, there have definitely been some big challenges that Stella and her amazing mom have had to face along the way. Thankfully, she has a strong momma with unshakeable determination who would do whatever it takes to help Stella live her very best life. Before coming to PWC Stella was struggling a lot with body awareness motor control, sleep, digestion, focus, allergies, sensory challenges, and even emotional regulation. When a friend recommended they attend the Perfect Storm event, Stella's mom decided to give it a chance, not knowing it would change their lives so greatly. While they had already seen many therapists that have helped Stella, chiropractic has been a huge piece of the puzzle that allows Stella to feel and function at her best. Read what mom has to say!! "Stella's focus and sensory issues have improved so much. Chiropractic has definitely improved her allergies, pooping, and body awareness as well. She loves taking walks, trying new foods, and will lie on her stomach now and even do yoga with me.
Also, no more green boogers during allergy season is a huge plus! I will always remember Dr. Tony's enthusiasm speaking at his Perfect Storm event, and Dr. Matt counting to ten with Stella before her first adjustment. I knew I chose the right chiropractor and I felt so happy I was taking Stella to a group of doctors that "get it." I love PWC because they give the parents hope, and treat the special needs community with the love and respect they deserve. So often our kids go unnoticed or ignored, but everyone at PWC always says hello to Stella even if she doesn't say it back…I do notice, and it means a lot to me. You guys have a special place and some wonderful, amazing doctors at PWC. I know there are so many different ways to try to help our kids, and chiropractic has been a huge piece for Stella." This sweet girl holds a special place in our hearts at PWC. Now, we absolutely love watching Stella jump up on the table for her adjustments and talk us through her favorite regions of the fuse box charts. She is one special girl who is the biggest blessing to our practice.

Meet
Meghan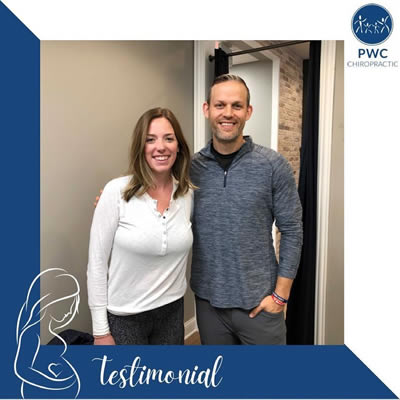 Meghan is a fantastic pediatric speech pathologist whose positive energy and smile are extra contagious. She came into PWC at 30 weeks pregnant because she was feeling some aches and pains, but also wanted to help prep her body for smoother labor/delivery and increase her energy levels. She had heard good things about it from family and had a couple of connections with PWC. To keep it as simple as possible, "It worked!" she said . She was able to manage her pain easier, have more energy, and best of all her delivery went amazingly well (and fast- especially for being the first baby)! She now has a sweet, healthy little boy Meghan said what she loved most about the office is that everyone is so friendly, welcoming and supportive throughout the process. She also said that as a pediatric speech pathologist she loves that the office is so focused on kids just as she is Now, we get to see Meghan grow as an absolutely amazing mom as she continues her adjustments for best healing and recovery. She truly is a special human being, this one!

Meet
Amelia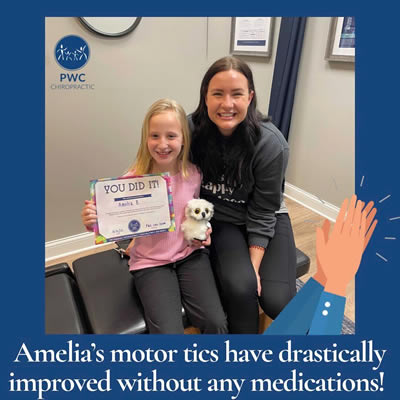 We're Talking Tics (and don't worry it has nothing to do with TikTok)
About 2 years ago, Amelia started having some mild motor tics where mom noticed she was doing repetitive nodding movements with her head. Sometimes Amelia had no idea she was doing them and other times she did- saying that it helped get rid of the "butterflies in her stomach". The tics used to show up only when she got overly stressed or anxious, but it soon started occurring more and more frequently over time. Amelia's pediatrician said it was because her adenoids (tonsils) were "blocked" and creating a lot of pressure in her sinuses, but after having surgery to get them removed the symptoms STILL didn't go away…in fact, they kept getting worse. Mom said that the next step they recommended was to put her on medications or try an inhaler, but something in her mom's gut didn't feel right. Mom said she was feeling very stuck because she didn't want the medications but also didn't know what else to do or try.
Show More
One day when she was scrolling through Facebook she saw an Ad about the scanning technologies at PWC. She said she was desperately hoping this would give them more information about what else was going on in Amelia's brain and body. Amelia's scans showed that her nervous system was stuck and had a lot of built-up stress. The movement of the neuro-spinal system is very important for getting calming sensory input to the brain. So, when the nervous system is "stuck" and stressed, the body will come up with other ways to create that calming input (tics, stimming, flapping, chewing, or any excessive fidgety movement, etc.) This amazing girl rocked her care plan and we had SO much fun with her along the way. She may even love her adjustments more than Dr. Morgan [which is pretty hard to beat ]. The best part is that her nervous system was able to become so much calmer and connected that her tics improved dramatically!!! And look at that amazing transformation in the neurological scans! We use these as our nervous system GPS to guide care every step of the way. Mom said they recently looked back at a video of her watching TV and couldn't believe how much of a difference there has been since starting chiropractic care. Yay Amelia! We couldn't be happier for you.

Meet
Rachel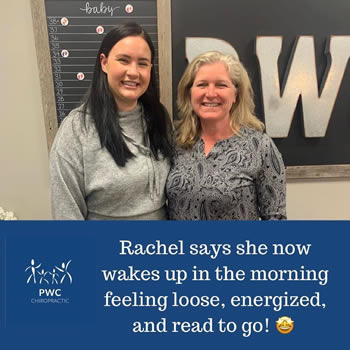 Raise your hand if you've ever had a hard time looking over your shoulder when you're in the car! Although we all know moms have eyes in the back of their head … we also know something's not totally right when we can't turn our necks well, we're stressed, and feeling like we have low energy. This is Rachel and she's super cool. This kind and caring boy mom took the action steps to really take care of herself and get back to feeling her best. Her boys were already patients at PWC but she decided to get her nervous system scanned and start care for herself! Although excited, she said at first she was a little hesitant and wasn't sure how she would feel about the adjustments. But after diving into her care plan with gusto, Rachel said the adjustments felt great and she was surprised at how much she loved coming multiple times a week for her restoration care. As she transitions into wellness, Rachel says she now feels like she can wake up in the morning and feel ready to go.
Show More
She says not only does she have less pain and stiffness in the neck but she feels more energized and calm overall. Although she does enjoy a good nap like the rest of us, she said she no longer feels like she needs a nap to have the energy to get through the day. Oh, and now she can also easily look over her shoulder when she's in the car too We're so excited for this beautiful mom and absolutely love having her great energy and amazing heart in the office Parents, don't forget to take care of you too!

Meet
Jodi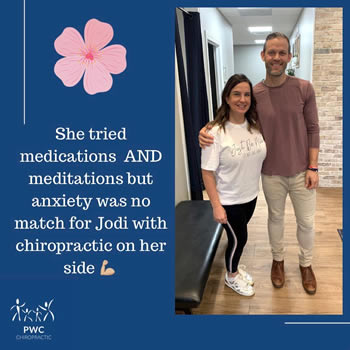 Moms, are you feeling anxious about being anxious? You're not alone! A lot of times it feels like we're stuck in a vicious cycle of anxiety, worry, and stress but don't know how to get out of it. Well, we've got some HOPE for you here! (we take the title of Hope Dealers very seriously). Meet Jodi Jodi is the kind, sweet, and amazing energy that everyone loves to be around. But, her anxiety was getting in the way of feeling like herself so she came into PWC for some help. She was feeling very frustrated because she tried medications AND meditations, but still wasn't getting the results she wanted When the nervous system is stuck in stress mode it makes it nearly impossible to find our calm or our zen no matter what we do. It's like trying to pump the brakes when the gas pedal is stuck going mph or trying to let some fresh air in when the window just won't open. The good news is that getting specific, neurological adjustments helps break that vicious cycle. It gets the body "un-stuck" and calms down the nervous system so that you can start to manage your anxiety and adapt to the stressors of life more easily.
Show More
Thankfully, chiropractic care has been the to helping Jodi manage her anxiety. When she started care at PWC she immediately felt more energized and calm when she left She said her anxiety progressively started ebbing down over the course of her care and now she feels like she can manage it so much easier Jodi says she has a lot more energy throughout the day and her outlook on life is a lot more positive She said she is no longer feeling alone in this and the positivity and encouragement that she has felt at PWC is so different from what she has encountered elsewhere We could not be happier for Jodi!! She's an absolute rockstar of a woman Like Jodi, you need to know you are not alone You can and deserve to feel and function at your very best!

Meet
Olivia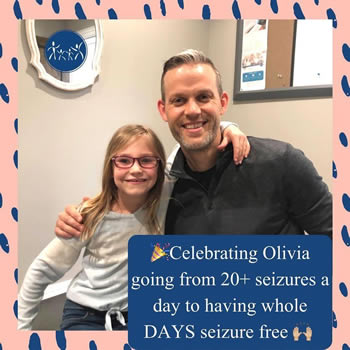 Olivia is a spark of light who is full of intelligence, interesting facts, and yummy recipe ideas. She's a little ninja warrior (for fun) AND in reality as she's had to be extra strong her entire life. A very traumatic injury at birth set off a storm in her nervous system that later showed up as absence seizures, extreme anxiety, and sensory processing challenges. Noise, lights, and sensory overload were absolutely debilitating for Olivia. These challenges became so difficult that she and her family had a hard time even leaving the house and adapting to what most would consider simple, everyday life. Olivia's amazing and dedicated parents found PWC about years ago. They had tried chiropractic care for Olivia before but didn't quite feel like they were in the right place for her specific needs. That's when they were referred by a friend at PWC who thought this would be a better fit And a great fit it was!! Mom says that chiropractic care at PWC has made a big difference in helping Olivia manage her absent seizures, anxiety, and sensory-seeking tendencies.
Show More
Though the journey has not been an easy one, she has gone from having 20 seizures per day to having whole days fully free of seizures!! Go, Olivia!! She also reports that Olivia gets sick less often under the care and it helps her be able to stay active in basketball, soccer, and ninja classes. Olivia says that coming to PWC is "really special because everybody here is super nice and it makes a big improvement in my health" She says " I love getting adjusted- it helps me feel more relaxed" And also in the exact words of miss Olivia "chiropractic care has added another step towards having the best health in the world" Wise beyond her years, this one! We're with you, Olivia. Sometimes all we need is a few small steps in the right direction to find the path to a healthier life.

Meet
Eric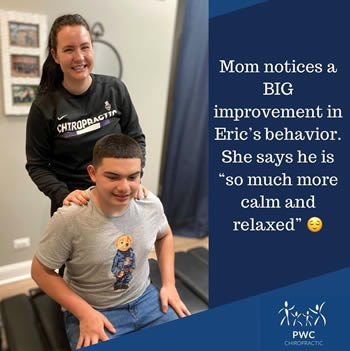 It's World Autism Month – and today we're celebrating Eric!
Eric is a sweet and kind soul who loves police cars and the theme song of The Fast and Furious. You'll often see him rocking a fresh haircut and some fresh kicks too. Mom brought Eric in for care because she said she knew there would be a lot of benefits for the behavioral and speech challenges that he was having. She said she had been thinking about chiropractic for a while and when his physician's assistant, her mother-in-law, AND sister-in-law all recommended PWC… she felt it would be great for Eric. Eric got scanned, got an awesome action plan, and fully committed to care. Mom says the biggest improvement she has noticed is Eric's behavior change! "He is SO much more calm and relaxed and able to take it easy every day," She says he has also made some big improvements in his speech "He is starting to string together words and sentences better than before". GO ERIC GO!! To put the cherry on top, mom says that Eric actually looks forward to his appointments.
Show More
She said it's really difficult to get him to go to a doctor's office or any place that he doesn't like, but at PWC "he loves it" and "we're happy to be here" There is absolutely nothing we want to change about who your kids are as people. Chiropractic helps kids get out of stress/survival mode and into a calm mode so they can be the very best version of their own, unique, and individual selves. There's only one Eric G in this world and we're lucky to get to know him a little bit more, every week.

Meet
Janine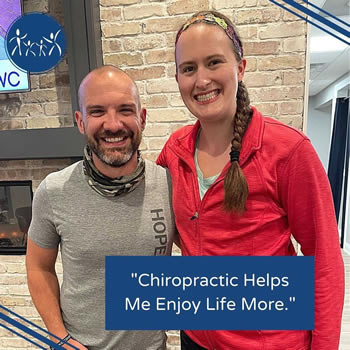 PATIENT ZERO: Chiropractic Edition – The study of the spread of HEALTH
Janine is a legend around these parts, as she is the "OG" of a perfect storm. She was Dr. Tony's very first perfect storm patient about 13 years ago … and she still comes in for her weekly wellness adjustments until this day. Janine came in as a young teen with major sensory processing struggles. Physical touch, crowds, loud noises, and itchy clothes would send her through the roof with anxiousness and overwhelm. It made it very difficult for her to function from day to day and made school and even going into stores extremely difficult. Janine was so easily overwhelmed by the outside environment and stimulation because she had so much stress built up on the inside of her storming nervous system. Chiropractic helped calm down the stress and the "noise" within her very sensitive body in order for her to not only get out of the storm but also be able to function well and grow into the wonderful, healthy woman she is today. Today, Janine says that chiropractic in a nutshell "helps me live".
Show More
She says it allows her to keep her body calmer and enjoy the things she loves to do most like jazzercise and getting massages. She says that when she gets overwhelmed by something she rates her anxiousness at a level 3 or 4 versus an 8 or 9 as it was in the past. She loves chiropractic so much she's even considering becoming a one herself!!!! Because Janine was Perfect Storm "Patient Zero", she and her family have surely helped pave the way for other kids to get connected to the help and HEALTH they so desperately need. (And so many more perfect storm kids and families continue to do the same) You know, health can be extremely contagious too.

Meet
Levi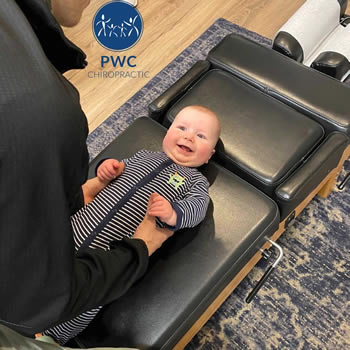 Kids and chiropractic go together like peanut butter and jelly…And babies are our JAM
Read what Levi's special momma has to say about why she brought him to PWC.. "We initially brought Levi into the office because he was very fussy, spitting up A LOT, and not sleeping well. He was nothing like my firstborn. I had read on one of my Facebook pregnancy groups that seeing a chiropractor could help. I was willing to try anything!"After sticking with the care plan and getting his very gentle and specific adjustments, Mom describes Levi as happier. Can you tell by that adorably huge smile and the extra squishy cheeks!?! Mom says, "Levi now sleeps 9-11 hours at night. He still spits up a bit and occasionally wakes at night, but because he is a baby. He seems much happier now. Being able to get better sleep has definitely helped support my transition of going back to work."Go Levi and Go Mom! We couldn't be happier for this little sweetie and his family. Every mom knows that even a little bit of extra sleep can go a long way… for everyone.

Meet
Shelby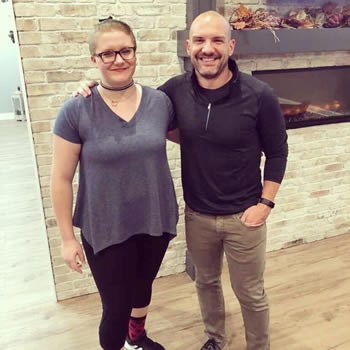 "I felt like the weight of the world was lifted off my shoulders."
A child shouldn't have to feel like the weight of the world is on their shoulders, but sometimes life isn't always an easy start and our kids don't feel comfortable in their own bodies. Shelby is such a special human being who is one of Dr. Tony's original perfect storm patients. This amazing young woman had a very difficult start to life- which began with exposure to extreme stress when she was a developing fetus. This was the start of a storm that led to many struggles and challenges down the road. As she grew up, Shelby had extreme ADHD and focus issues. She couldn't sit still or stay concentrating on anything which made it beyond difficult to do school. She was so easily overwhelmed by even the smallest things because her brain and body were primed for stress and survival mode- seeing everything as a threat. Thankfully Shelby was referred to PWC by a behavioral vision specialist. Shelby said she remembered feeling like the weight of the world was on her shoulders and once she started getting adjusted-the weight was finally lifted off.
Show More
Mom said that throughout the whole process she started noticing "little miracles" happening all the time. She said sometimes even immediately after the adjustments she would see a huge change in Shelby's ability to calm down and focus (which made mom start to get adjusted too). Until this very day, (about ten years later) this special lady continues to get adjusted to help her manage stress and be the very best version of herself. The perfect storm is no match for Shelby's fighting spirit and neurological chiropractic care… it's quite the combo Shelby's continued wellness care at PWC means we get to see her weekly, and that makes us the lucky ones! We're all a little obsessed with a good Shelby story around here.

Meet
Adira
"I didn't even know how much she needed it."
That is what mom said about little miss Adira when looking back on their journey at PWC. Adira is one of our now wellness patients who started care with us over a year ago. But, it was actually her little sister Ava who brought them through our doors first..to help with her head tilt and a developing flat spot. After learning more about chiropractic care and the effect it has on the function of the nervous system, Adira's mom knew in her gut she should get Adira adjusted too to help her grow up healthy and strong. But mom said, at that time she –Didn't even know how much she needed it. She said before PWC, Adira had a really difficult time calming down and regulating her moods which she just thought was her 'norma". But, after chiropractic care helped balance out her nervous system, Adira is able to regulate her moods so much better and has found a new level of calm that her mom didn't even know was possible. Mom also reports that Adira has fewer illnesses, better digestive health, improved mobility, and even sleeps a lot better too.
Show More
On her most recent progress update, Mom wrote that family and friends are "always amazed" at how chiropractic has helped their family. Well, we're always amazed and thankful for how much joy, life, spunk, (and unicorns ) that miss Adira and her family bring to our day. We absolutely love love love having these gals as part of our wellness tribe.

Meet
Katie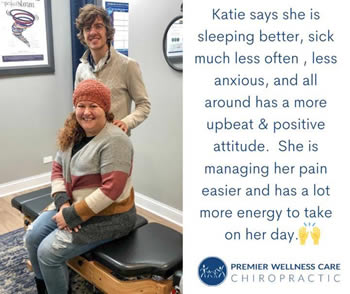 What started as a last resort for HELP, turned into the first resort for HEALTH. We are celebrating one year of this lovely lady feeling her very best. Before coming to PWC Katie could not "kick the sick" and was holding a lot of extra tension and stress in her body. She was sick for four months straight with congestion, coughing, back pain, and body aches. Katie was also unable to sleep well and often felt very anxious and fatigued with low energy. When PWC was recommended by a friend, it completely changed Katie's life around. It got her nervous system "unstuck" and helped her body calm down, clear out the stress, and self-regulate. The truth is, the outside stressors will never really stop. But, on the bright side .. neither does the body's ability to adapt to that stress when your nervous system is calm, balanced, and working at its very best.
Show More
Katie says she is sleeping better, sick much less often, less anxious, and all-around has a more upbeat/positive attitude. She is managing her pain easier and has a lot more energy to take on her day. We are so lucky to have this beacon of light and positivity as part of our wellness tribe. Often times we hear grown-ups ask if we see adults too…and the answer is YES!! We love grown-ups in our office! You probably get less pumped about the organic snack basket (not always ) but we most definitely love to help adults live their best life too!

Meet
Heather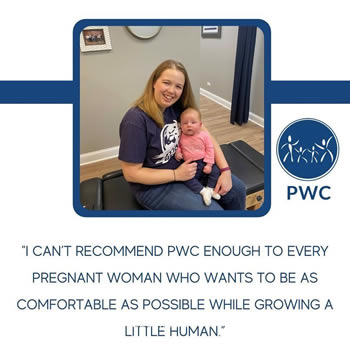 What's on your Pregnancy Checklist? Any of these!?!
Better sleep More energy Less pain Easier delivery Better postpartum recovery This incredible momma wasn't feeling her best throughout her first pregnancy, so she decided to take action and add chiropractic care into round. Here's what she had to say!"During my first pregnancy, I battled sciatica and hip pains that made it impossible to be on my feet for more than 30 minutes at a time. When I found out I was pregnant again, I knew I had to do something different. Enter PWC! Going in I expected less pain than before, I didn't expect no pain. I also found myself sleeping better and having more energy to chase and play with my toddler! Lastly, my second delivery was so much easier and smoother than my first, I was able to deliver my beautiful little girl with no pain meds and in just 6 hours. After delivery I found myself bouncing back so quickly, it was hard to remember to slow down to allow my body to heal. I can't recommend PWC enough to every pregnant woman who wants to be as comfortable as possible while growing a little human."

Meet
Brooklyn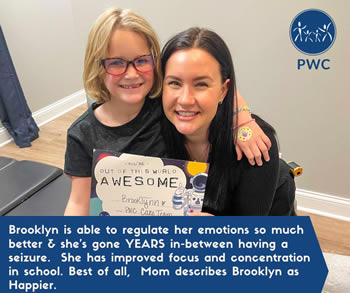 The storm of stress that was stuck in Brooklyn's nervous system created a constant whirlwind of emotional meltdowns, sensory processing challenges, behavioral tantrums, seizures, and constant sickness. Brooklyn was having such a hard time regulating her emotions that mom said they could barely leave the house because something as simple as going into a store triggered a massive meltdown. In addition to that, Brooklyn was getting sick ALL the time. They were at the pediatrician about every two weeks for recurring infections that seemed to never stop. Mom said it got so bad that the front desk would automatically schedule her out for more appointments because they knew she would be back with another infection. The antibiotics, the ear tubes, and the tonsillectomy only helped temporarily before they would find themselves stuck in the sick again.
Show More
Brooklyn's mom (being the strong and amazing superstar that she is) sought out answers at PWC because she wanted more for her daughter than constant sick visits that only put a band-aid over her struggles. Mom said at first she was hesitant and skeptical because she didn't fully understand what pediatric chiropractic was and if it would help. But after talking to Dr. Tony and learning about the Perfect Storm, Brooklyn's mom said she had so much hope and knew she was in the right place! Fast forward to now this beautiful chiro kid is absolutely crushing life! She is able to regulate her emotions so much better (they can even go shopping at the Toy store ) Brooklyn is rarely ever sick and has kicked the recurring infections. She's gone YEARS in-between having a seizure. She has improved focus and concentration in school and is adapting to change easier. Wooohoo! Best of all, Mom describes Brooklyn as Happier. We are so proud of these huge leaps that Brooklyn has made. To see her continue to reach her full potential is absolutely amazing! She's full of life, full of creativity, and full of smiles.

Meet
Wyatt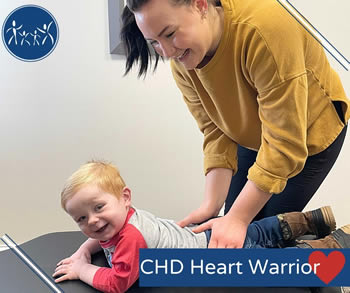 It's CHD (congenital heart defect) awareness week, and we wanted to celebrate this sweet boy who is one of our PWC heart warriors. Wyatt was born with tricuspid atresia, ASD, VSD, and Pulmonary Stenosis. Though he was dealt a tough hand this little guy is undoubtedly beating the odds!! He has dominated open heart surgery and is growing like a champ. Wyatt still has more life-saving surgery on the horizon, but he is staying healthy and happy in the meantime..enjoying his life with his beautiful family. Mom says chiropractic has been a really important part of Wyatt's journey. In the past, it helped with colic, constipation, and keeping his body calm and in healing mode for post-surgery recovery. This year, she says that it's made a huge difference in keeping his immune system strong as he's managed to kick the sick and stay very healthy. Go Wyat!!!! Wyatt's smile and personality give us all of the warm fuzzies inside. He's absolutely adorable and brightens our day every time we see him. He's LOVING his adjustments and ready to take on the next challenges in life with an absolutely AMAZING family and support team behind him

Meet
Ginger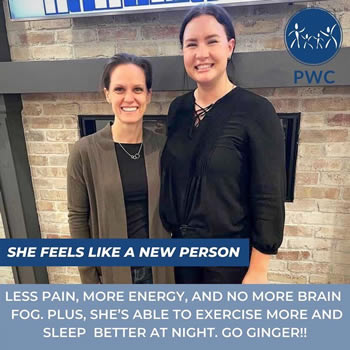 Ginger came into PWC because she didn't want to settle for feeling slowed down by her pain and stress. She's an awesome mom of teenagers who takes care of herself amazingly but wanted to get to the root cause of her pain and felt there was something missing to feeling her best. So, she took action: walked through our doors, got scanned, and got adjusted according to her individual care plan. She started feeling big improvements from the very start and after completing her care plan… Ginger has "SNAP"ed (, see what we did there) back to her best self She said she feels like a whole new person when she wakes up in the morning. Less pain, more energy, and no more brain fog. She described it as a "clarity in the head that is hard to explain" until you feel it. Ginger says she's able to exercise more and sleep better at night. We are so excited to now have Ginger as part of our wellness crew. She's dedicated to her health on so many levels and is truly a pleasure to be around.

Meet
Joey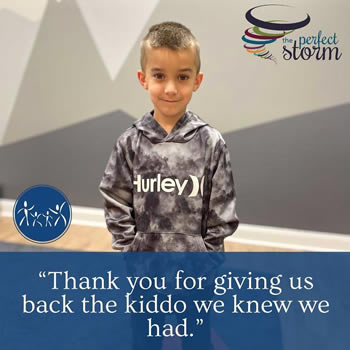 "Thank you for giving us back the kiddo we knew we had."
This handsome little guy recently got an amazing CELEBRATION CALL from one of his teachers. Joey's Mom says "Never did I ever think THIS would be about Joey- until PWC stepped into our lives! Thank you again for giving us back the kiddo we knew we had."This amazing note came directly from Joey's teacher… "I don't even know where to begin regarding Joseph! This young man deserves to be celebrated in some fashion, I just haven't figured out how or what to do quite yet. Joseph goes ABOVE and BEYOND pretty much daily and is one I can always rely on to model correct behavior and get his work done. He is thoughtful, caring, and genuine. His peers respect him and often look to him as the leader in the room."This celebration is so EXTRA sweet knowing that in the past, Joey's aggressive behavior and inability to listen really interfered with his learning and relationships. He became labeled as the "troublemaker" at school, where kids began avoiding him and making fun of him because he would have huge meltdowns and tantrums throughout the day.
Show More
But after chiropractic care helped get Joey out of his struggle and into his calm…. he is able to regulate his moods and fully be himself like never before. This little man is smart, sweet, and so full of life. We are so so proud of you Joey, and absolutely love celebrating this huge win!!

Meet
Tucker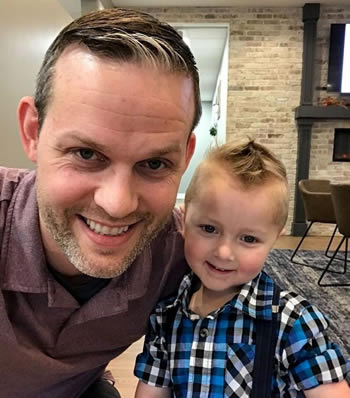 Tucker has officially had his failure to thrive diagnosis removed.
At his pediatrician appointment this week, he was on the growth chart for the 1st time since he was 2 years old. This little guy has had a tough time eating food ever since he transitioned over to solids. He was only able to eat the same 5 foods over and over again. Tucker's nervous system was in such a sensory overload that if he was presented with foods like chicken or grapes, he would throw up. His family was unable to find the answer in any therapies they brought him to. Tucker's family began researching more + more until they found hope in a Facebook video about The Perfect Storm. They signed up for our next workshop and knew that they found the answer they were looking for – Tucker's nervous system was stuck in the Perfect Storm! His family diligently stuck to our doctor's recommendations and began seeing results quickly! They were only coming to a couple of weeks before they started to notice that Tucker did not have major reactions to the food that used to make him throw up. Furthermore, he was even able to actually EAT some of those foods! The therapies that Tucker frequented for 2 years noticed a progression that they had never seen with him.
Show More
Those practitioners supported chiropractic care so much that they released Tucker from the therapies and allowed his nervous system to take control! An exciting time for the whole family, as fewer appointments each week means more time for FUN and family! We are celebrating such an incredibly HUGE win for this amazing family!

Meet
Karin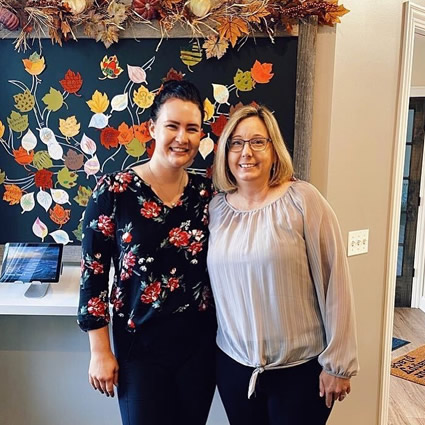 How We Helped to Make Karen Incredible Even More
She's not your average Karen, in fact, it's Karin spelled with an I. And the I stands for INCREDIBLE. Not only is this amazing woman extremely pleasant to be around (and doesn't demand to speak to the manager ), but she tackles life head-on and with a great sense of humor. Karin came to PWC stuck in stress mode that made it difficult for her to get a good night's sleep, maintain her energy levels, and manage her pain. Now, this woman is handling stress like a boss and seeing some awesome improvements in everyday life.
After starting care at PWC, she is falling asleep faster and staying asleep longer. She has noticed a big increase in energy levels. Karin has decided to kick her pain meds to the curb because she no longer needs them. Best of all? Karin says she can now enjoy and participate in more day-to-day activities that she would normally have had to pass on before. That's a huge win! And a big win for us is that we are so dang lucky to have this woman as part of our tribe.
If you're wondering how chiropractic can help you adapt to the stress in your life, we'd love to meet you!

Meet
Carson
From Perfect Storm to a Healthier and Happier Kiddo
Meet Carson, now a happy, thriving two-year-old but he had a less than easy start to life. It all began with a superstar mom who had a tough matchup with STRESS during her pregnancy. This very exciting time was overshadowed by constant testing for a virus (that could have had detrimental effects on the baby) and a tough fall that sent her into early contractions. Not to mention the day-to-day stressors that add up when you have two other little ones at home!
The accumulation of stress that expecting moms face in this crazy world (both big and small alike) creates a brewing storm in a baby's tiny developing brain and nervous system. It is a factor found in over 60% of our #perfectstorm cases. The storm then picked up strongly when Carson had to be twisted and pulled out during birth, which was followed by four days spent in the NICU. A tough birth like this is found in 80%+ of our #perfectstorm cases. This perfect storm raged on when he started struggling with torticollis, chronic ear infections, difficulty sleeping, and eventually intense emotional outbursts. That meant hitting, throwing, stomping, screaming, and a very tough time calming down. Deep down mom knew that there was something else going in his little body that kept him so "high strung", and boy was she right!!!!
The good news starts here: Carson's parents found hope and answers through a PWC Virtual Workshop. It helped them connect the dots as to WHY his symptoms and mood regulation went hand in hand with the stress built up in his nervous system. After starting care with us, this sweet boy is now is calmly rocking at life. He is much healthier kiddo who is sleeping well, adapting to changes, and for the first time ever- able to regulate his emotions. Mom described Carson as HAPPY and everyone gets to see that beautiful SMILE more often (boy is it cute!!)! If any of these struggles resonate with your child or you just know deep down something more is going on, we would love to meet you!

Meet
Tierney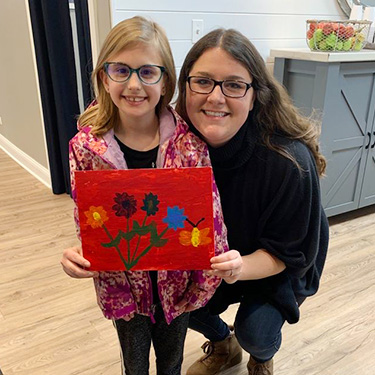 We Love Helping Kiddos Feel Comfortable
Tierney is one of the strongest, sweetest, and smartest little ladies you'll ever meet. If you're a parent of a little girl, you know that being these 3 things can turn you into a bit of a perfectionist, and the feelings that accompany perfectionism can weigh heavy on you, especially when you're only 8! Luckily, Tierney's family decided not to take "she might grow out of it" as an answer and decided to look for other answers!
Tierney came to us a few months back struggling with sensory processing issues, which leads to a vicious cycle of then feeling overwhelmed and anxious often. It really started interfering with daily life, to the point where she couldn't handle clothes that hugged her body too tightly. She had her regular shoes and dresses that passed the test and didn't overwhelm her body, but for the most part, it was meltdowns and severe anxiety if clothing was involved. Flash forward to now, this sweet girl has a whole new wardrobe and just recently conquered a massive fear- wearing glasses!
There is truly nothing that we at PWC love more than helping kiddos feel comfortable in their bodies. To see Tierney be able to express herself and act like the vibrant, amazing 8-year-old is the best part of our job!

Meet
Gable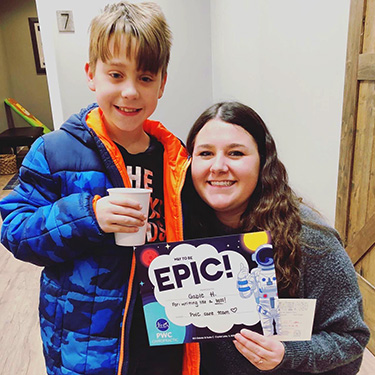 Crushed His Fears
Meet Gable- writer extraordinaire, actor, future roller coaster designer, AND future doctor of chiropractic! Gable has been with us for almost a year and a half now. When he started with us, he was having some trouble focusing in school which as we all know leads to frustration and anxiety for everyone involved. Who else can relate?
Gable saw awesome changes during his care plan and then transitioned into what's called wellness care. The coolest thing about wellness care is that the wins never stop! The things this kiddo used to struggle with aren't even topics of conversation anymore, because he is just rocking life! Just recently, he told us of two massive wins that we just HAD to share! First off, this kid who used to struggle with reading and writing sat down and wrote FIVE PAGES on google docs! What's even cooler is that he actually enjoyed it!
Next, Gable crushed his fears and auditioned for his school play, The Adventures of Tom Sawyer. Not only did he get an awesome part, but he got on stage and performed in front of tons of people for multiple shows. We think that one deserves a standing ovation! There's nothing that makes us happier than seeing confident, rockstar kids push themselves out of their comfort zones and just thrive. No kiddo should have obstacles like fear, anxiety, and focus issues in their way when it comes to doing all of the things that make being a kid so fun, and that's what we're here for!

Meet
Axton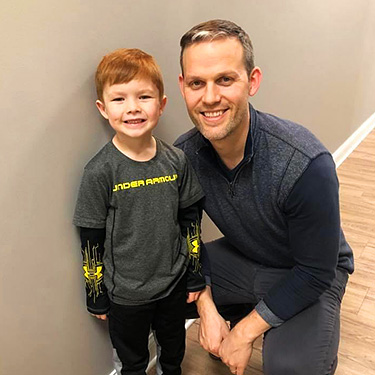 Kicked The Cycle Of Sickness!
Axton's story consists of chronic ear infections, pneumonia over and over again, constant fluid in his sinuses and ears, and even moderate hearing loss. In 5 months, this poor kiddo had been on six different antibiotics, breathing treatments and nebulizers, regular ER visits, and an ENT referral that ended in suggested ear tubes and tonsil/adenoid removal.
At the time, Axton's mom literally knew NO different. She didn't know what else to do. She hated the idea of surgery but just wanted her child to be what every parent hopes for healthy and happy. Developmentally, she knew his letters and sounds and words were delayed because of the hearing loss. Physically, she knew he was constantly miserable. Emotionally, she knew he was a wreck because he just wanted to feel better.
Finally, Axton's mom came across a pediatrician that was willing to recommend a different approach. "Try PWC Chiropractic" she told mom. Mom came into the office but was wary. "I've never heard of this before…why would it work? Someone would have told me earlier."
With her arms up, ready to pull her hair out, she brought him. A double ear infection (one bulging eardrum on the verge of bursting) after being off of his previous round of antibiotics for 4 DAYS left her willing to try anything.
That's when Axton kicked the cycle of sickness! The cycle of antibiotics was over. Never again did he need an ER visit or an ENT referral. Never again did he need a hearing test (because it's been fully regained!). Never again did mom have to worry about his physical, emotional, or developmental well-being. He is HAPPY. He is HEALTHY. There IS a different way! Parents, you deserve to know that!

Meet
Alexander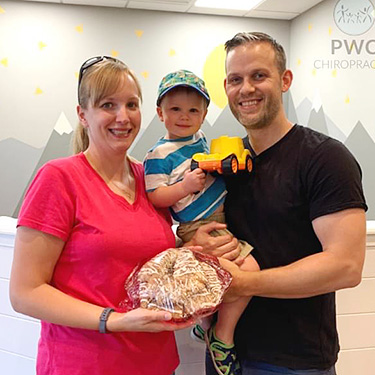 One Year Ear Infection Free
This awesome little dude has lots to celebrate! He is celebrating ONE YEAR EAR INFECTION FREE since starting care at PWC. From chronic immune challenges and multiple rounds of antibiotics to bringing us homemade scones to celebrate zero ear infections. Wow, what a long way this little man has come and boy are we excited to share in the celebration!
Instead of working backward to just find better treatments for ear infections, colds, coughs, and the sickness that never seems to go away, pediatric chiropractors work on sorting out the underlying cause(s) and focus their care and attention there. What if you could find relief for MORE than 12 hours? What if the relief had no warning labels and could stop the cycle of getting one cold that leads to the sore throat that leads to the cough that never seems to go away?

Meet
Cole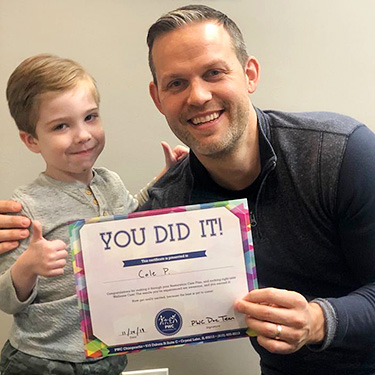 Amazing Things Happen
We are so incredibly proud of Cole! You see, Cole struggled with lots of anxiety, fear of change, new things, and feeling uncomfortable in everyday situations. Over the past few months, Cole's been getting adjusted and working hard to conquer his fear and he has done amazing things! When Cole's mom let us know all the progress Cole has made in such a short time, we couldn't stop smiling! Cole is now going potty on his own without fear, wearing long sleeve shirts, able to start the day at school easier, comfortable on the playground, and has an easier time going into the new social situations! Most importantly, Cole is on a good trajectory growing, developing, and building on his success! Having fear and anxiety hardwired is really difficult, especially for kids. We are so joyful when we see the shift and breakthroughs occur within PWC! When we give the body the ability to heal and reconnect from the inside out, AMAZING things happen!  Pediatric chiropractic is focused on the nervous system, the thing that controls every function of our bodies!  Having your little one's nervous system checked could be the most important thing you do.

Meet
Hadley
Every Kiddo Can Be A Better Version Of Themselves!
Hadley's wonderful parents found us through a Facebook group where moms were talking about "The Perfect Storm." Once learning exactly what the perfect storm was and learning what chiropractic care can do for these kiddos stuck in the storm, Hadley's parents never looked back! Hadley came to us struggling with anxiety, sensory processing disorder, possible auditory processing, and some emotional and impulsivity challenges.
Like many other kiddos with these struggles, Hadley's family had tried everything under the sun- homeopathic remedies, supplements, holistic doctors, play therapy, eye doctors, and occupational therapy. While these therapies all did tremendous things for Hadley, oftentimes we see that chiropractic is just the final missing piece of the puzzle to get these kiddos flourishing and really adapting to this crazy thing we call life! Fast forward to this school year's IEP review meeting, and Hadley's parents had amazing things to say about how far this sweet girl has come! Here is the update Hadley's mom shared with us. "The social worker, who spent much of Hadley's kindergarten year with her (both in and out of the classroom) is absolutely speechless about the progress Hadley has made as a first grader! She briefly mentioned this to us during conferences in November, but we really got to hear more details yesterday. Just about every school issue we were dealing with a year ago has subsided.
Hadley is now able to handle transitions so much better throughout her day (from morning care to the classroom and back to afternoon care), she is able to enter the gym and participate in PE – even being a leader and offering to partner with kids who need one, rarely uses her headphones, rarely walks around the classroom (she was doing so about every 30 minutes in kinder and very rarely does so now), and uses her breaks appropriately when needed. We kept asking questions based on the behaviors and supports in place we knew of last year and the team continued to tell us that she was either no longer engaging in the behavior/needing the specific support or it was seen significantly less." What we love about chiropractic is that it allows kiddos to still be the fun, quirky kids we know and love, but helps them feel more comfortable in their bodies. It allows their bodies to be the hero, and helps them unleash the best version of themselves and develop socially and emotionally at whatever rate their body is comfortable with! At PWC, we see untapped, limitless potential in every child who walks through our doors and knows that with a calm nervous system, every kiddo can be a better version of themselves!

Meet
Cassie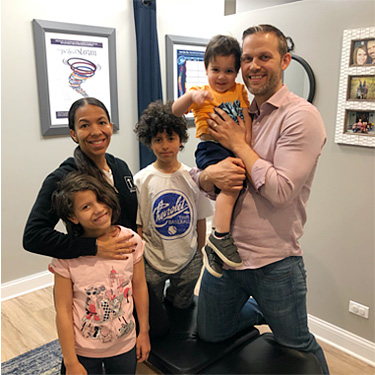 Whole Family Wellness
Meet Cassie, Leona, Caleb, and Callan! The whole family comes to us for care, which makes us about as happy as it gets! Callan was the first kiddo to get started under care due to having fevers and ear infections on a monthly basis. Since all of Cassie's kiddos had been prone to ear infections, she knew that if she didn't get ahead of it he would be looking at years to come filled with ear infections and drainage issues. After seeing a massive drop in the number of ear infections Callan was experiencing, Cassie knew two of her other kids, Leona and Caleb, nervous systems needed a hard reset just like Callan.
Having been with us for so long, Cassie knew that stressors present early on in kids' lives tend to stick with them and bog down their nervous system over time. Leona and Caleb's case history consisted of hospitalizations, antibiotics, and steroids, all in just their first year of life. Their immune systems were struggling and they regularly missed 7-14 days of school every year. Fast forward to today, just a year later, and this family is crushing life together! Caleb and Leona have missed half of the days of school than they did before starting and are happy that their gut and immune systems are stronger than ever!
Cassie started care most recently, as most moms do, and also knew that getting her back into a good place would be no easy feat. She came to us in pain due to degenerative disc disease as well as old injuries in her low back. As a working mom, professional dancer, and bartender, she knew that the stressors in her life were not lessening any time soon and that it was time to put herself first. Cassie recently told us she's noticed an extreme increase in her mobility and range of motion. While she still has her "bad days" like all moms do, she's so happy to be not confined to her bed anymore on those days, allowing her to live her life to the fullest and be the rockstar mom that she is!

Meet
Jon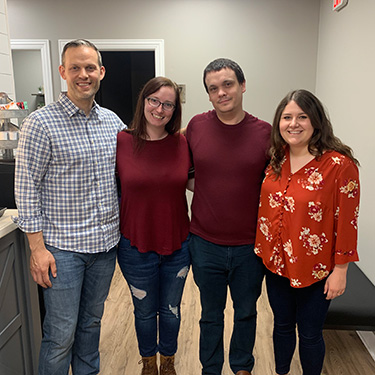 Function At Your Best
A common question we get in our office is, "do you see adults too?" The answer is YES! Meet Jon! Jon played hockey throughout his life and experienced many physical traumas, as most hockey players do! As a result, we met Jon at 26 years old in such severe pain that he just knew he was going to end up in a wheelchair before 40. At this point, Jon had three different herniations in all 3 main areas of his spine. He had been through the wringer- MRIs, scans, regular spinal specialist visits, physical therapy, and most recently, steroid injections that seemed to put a band-aid on the physical pain, but were painful on the wallet!
Sarah, Jon's finance, came in for care at PWC first and had actually made new patient appointments for both of them at the same time. On the day of the appointment, Jon ended up canceling due to being told by specialists that chiropractic care could injure him further. Thankfully, after lots of pushing from his wonderful other half, Sarah, Jon came to Sarah's report of findings appointment where the doctors go over your scans and care plan. While going over Sarah's scans, Jon was able to see that PWC is not your regular, run-of-the-mill chiropractic office. He was excited to hear about the neurological approach that we take in our office and knew that what he was hearing from us was completely different than what any of his specialists had been telling him.
After deciding to put his full trust in us, we got Jon scanned and started under care. In just 3 months, Jon has done phenomenal under our neurologically focused care! Constant pain signals being sent through your nervous system bombard your brain with input, and eventually, your nervous system gets exhausted trying to keep up! That's when your body shifts into activating your sympathetic nervous system to protect itself, but living in constant survival mode leaves your body with no energy to focus on other important daily functions like sleep, digestion, immune function, the list goes on and on! With a balanced nervous system, not only is Jon in much less pain, but he knows his body is functioning at its best. The real big "win" out of Jon's whole story though is that chiropractic care for him meant no more steroid injections and constant testing and specialist visits, and that is why we do what we do! We love helping everyone, even adults, feel AND function at their best!

Meet
Kylan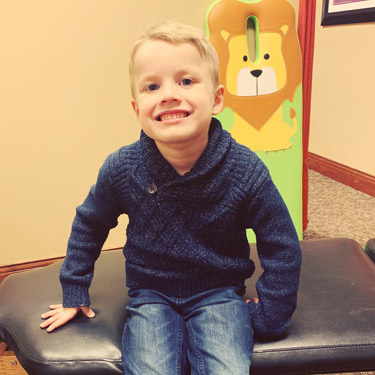 Sensory, Speech, Social
When we first met Kylan last year, he was struggling. He was having meltdowns pretty much from the moment he woke up to the time he was ready for bed. It was hard for mom and dad because they hated to see their kiddo struggle. It was also really hard for them because there was no good way to discipline him. Kylan had a difficult time comprehending what mom and dad wanted of him. Kylan was also struggling with his speech. He couldn't comprehe