About PWC Chiropractic
Family is everything to us, so it is important for you to feel like family each and every time you enter PWC!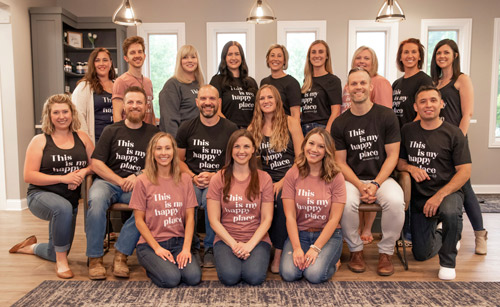 Hope. Answers. Help. for the Whole Family
The Crystal Lake  location is a dream come true as this community has so many amazing things to offer families. Our location is easily accessible for families always on the move in  Crystal Lake and surrounding areas, which we knew would be important with our pediatric specialty.
Designed With You in Mind
From the outset we wanted a practice with a warm, inviting, family setting. We wanted our patients to know they can trust us, and that we are here to serve their entire family and community. We also hope our tribe knows they are welcome as they are and at any point in their health journey.
Our goal is for our patients to feel empowered and involved in their care, and to feel a part of this special PWC Tribe.
Everyone is so friendly and professional at the same time. From the minute I walked in the office I felt welcomed. No one rushes you, no matter how busy they are or how many questions you may have. I would recommend them to all my family and friends.

Diane W.
Chiropractic for Kids
Many people often have three questions about our office… the first of which is, "I didn't even know chiropractors saw kids?" This is a common question, but one that is easily answered. Pediatric chiropractic is the fastest growing segment of chiropractic care, and about 20% of all chiropractic visits nationwide are pediatric. In our office we go way beyond that and over half of the patients in our office are kids, making us one of the busiest pediatric offices in the country! No matter what your child's issue, we feel chiropractic can help. Our office helps children with ADHD, allergies, anxiety, asthma, autism, bed-wetting, colic, constipation, ear infections, learning and behavioral issues, sensory processing disorder, and much more!
The second question is, "Is it safe for kids?" This is the easiest answer of them all… chiropractic care for children, and patients of all ages, has repeatedly been shown to be one of the safest forms of health care there is. This becomes even more apparent when compared with the "alternative" to chiropractic and wellness care, drugs. Most times drugs are not tested on children (rightfully so) and therefore pediatric doses are nothing more than 'best guesses' and often times can lead to dangerous and damaging side effects. That is not the case with chiropractic!
The third question is "Do you just see kids?" Another great question, but the answer is an easy NO! While the PWC Chiropractic Care Team has extensive training in pregnancy and pediatric chiropractic care, we hope to care for the whole family!
No matter what your age, and no matter what your problem, we want to help! Contact us today! Have more questions about you or child and want to find out if chiropractic would be good for you? Then shoot our patient care coordinator an email jacqui@PWCchiropractic.com!

About PWC Chiropractic | (815) 455-8213